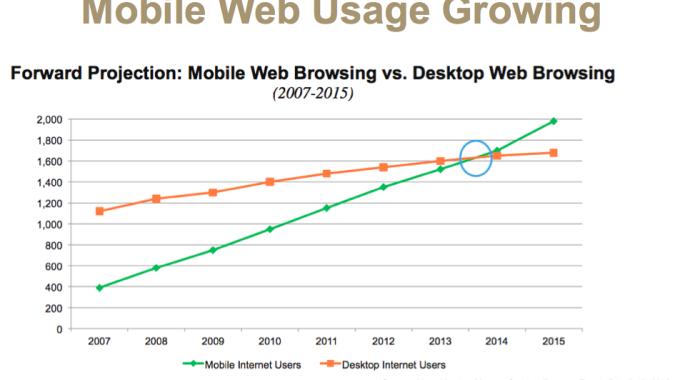 Internet Usage is More in Mobile than in Desktop
We know that the internet which has revolutionized the communication worldwide has been acting as the primary platform for businesses and other commercial organizations for conducting their core-business activities for years. In addition, they have been utilizing the web for marketing campaigns for the promotion of their products and services. As majority people uses desktops and laptops for browsing the internet, businesses implemented various SEO tactics to lure many people who interested in their product/service and turn into their customers. But now, things have changed with arrival of mobile devices such as smartphones and tablets as these devices helped people to draw more closely to the web. Here are some data provided by Online Publishers Association/Frank.N.Magid Associates on what all the things people do on web via their mobile.
62.1% access their emails
99.5% access web content/information
41.7% download and use apps
15% engages in online shopping
49.2% listen to music
15% access ebooks
63.1 access the web
According to Marketingcharts.com, the internet usage has been more in mobile that in desktops when they conducted a study in which they gathered internet usage data from February 2013 to January 2014 for both desktop and mobile platforms. During the 2013-14 period, Americans has been suing mobile to access the internet than using PC and the numbers has exceed in the past January 2014 as per the data they collected where Americans spent 46.6 percent of their overall internet time with mobile apps as compared to 45.1 percent of surveyed people who use a desktop to access the web and the remaining 8.3 percent uses mobile browsers.
Business Executives Also Now Embraces Mobile Web
Not only ordinary consumers who uses mobile internet, but business executives have also started using mobile for conducting their routine business activities online. According to a study published by idgknowledgehub.com which is named as IDG Global Mobile Survey 2014, mobile is the most preferred device for executives for conducting research during and after business hours. Also, they use smartphones and tablets to perform business functions more frequently in the evenings than any other time of the day. During the conduction of the survey, researchers found that:
About 77% of executives depend on their smartphone/tablet to research on a product/service for their business.
92% of business executives own a mobile device which is used only for conducting their core-business functions.
72% of executives use smartphones and 86% use tablets for conducting research on products/services for their core-business.
Also, about 93% of executives make online purchases using a laptop or a desktop.
Time to Focus on Mobile Search Marketing
It seems that mobile has taken over laptop/desktop when it comes to conducting various functions such as business management, sales, social media and customer relationship management. Also, there are some brands started seeing mobile as the major platform for marketing and advertising their products/services. With the rising popularity of these mobile devices, brands have to start thinking about utilizing people's mobile search behavior to their advantage. They can seek assistance from experts who are good at providing client-oriented services that can fulfill their client's mobile search marketing requirements.