SEO Link Wheels
How many times you have gone past the first page in any of your internet searches? The answer may be a nil for most of the cases. So, what does that actually mean in case of your website? If you are not listed in the very first page of the keyword search of your product/service, you may go unnoticed in the vast world of inter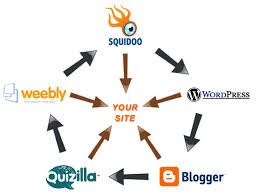 net. But don't worry, efficient SEO techniques can be at your aid here also, in the form of Link Wheels.
Link wheels are one among such amazingly powerful SEO techniques which helps you sustain healthy in internet search results with the help of several backlinks. These backlinks are nothing but links that bounce bank to the main page / homepage of your website from different locations. This increases network traffic to your website remarkably which helps you rank first in all keyword searches related to your products.
Link wheel creation involves a series of procedures which are carried out consecutively. They are:
Forming Squidoo lens on your website topic
Writing articles related to your topic and the submission of the same in any of online article directories
Creation of Hubpages and linking it back to your article
Creating Google Knol and linking it back to your Hubpages
Creating blogger blogs and linking it back to your Google Knol and
Finally, closing the link wheel by linking the blogger blog back to your website homepage.
Including the right keyword plays an important role in online business. Hence it should be ensured that appropriate keyword is incorporated with all your content/creation to project your website in the top search lists of the keyword. Newbie's can seek the advice of professional link wheel service providers to understand in detail and make the most out of it. SEO Experts 4 all provide efficient and affordable Link Wheel services to various types of clients for the promotion of their website and in turn their business.
[contact-form-7 404 "Not Found"]